Courtyard, Carnegie Museum of Art,
Pittsburgh. Author photo.
I felt very lucky to go to the Carnegie International exhibition in Pittsburgh when it opened for media preview on the first weekend in October. I've never been to any of the international biannual shows that seek to define the Moment in contemporary art; that make and mould the careers of artists and curators; and that satisfy the needs of art- and social-columnists for a glittering month or two.
The remarks
welcoming the press
were delayed as people enjoyed reunions over Danish pastry. I was impatient.
"Let them dawdle over coffee and pastries: Where's the art?" I left the strudel and introductions untouched. A sympathetic guard saw what I wanted. He hit the elevator button for me: "When the door opens, turn left," he said with a grin.
Among the great proliferation of biennial and occasional international art shows around the world, the Carnegie stands out. It's not a "pop-up" show that lasts for a few brilliant months and then disperses again, all its works returning whence they came.
Ever since the Carnegie Museum of Art was founded, this show has existed not only to showcase contemporary art, but to serve as an acquisitions pool for the Museum itself. Andrew Carnegie ardently collected the art of his time: He is attributed with having said that he wanted "the old masters of tomorrow."
Charles Burchfield, Marsden Hartley, and Louise Bourgeois are a
mong those the Museum acquired
as contemporary artists
through Internationals. During their lifetimes, they were working the cutting-edge, even if we see them now, through history, as venerable modern (old) masters.
Pedro Reyes,
Disarm,
2012-2013.
Instrument made from
decommissioned weapons.
7-7/8 x 19-11/16 x 19-11/16 in.
Courtesy of the artist, Lisson Gallery, London, and Alumnos47 Foundation.
The size of the Carnegie International pushes the usefulness of the terms "show" or "exhibition." What the three co-curators,
Daniel Baumann, Dan Byers, and Tina Kukielski, have actually done, is to install a museum's worth of new art inside the existing museum. Each of the thirty-seven artists included is represented by a selection of work sufficient to stand alone as a gallery show. These are scattered among the existing Museum collection in rooms that have been adjusted—not always completely
evacuated—to receive their new neighbors. The excellent idea is to allow the existing collection
to go to the game together with
these new works just in off the street; to have drinks with them; sit in the same traffic jam; be cell-mates...to coexist in such relationships as the visitors see and understand. I think it's a great idea.
I had no more chance of seeing the 2013 Carnegie International in a day than I would have had to explore the whole Carnegie Museum that houses it. And who would want to? The pleasure of looking at art is to
look
at it, after all, spending time to think about what the artist did delivers something useful or valuable for me. Art takes time. Still, I quickened my step; I moved like a kid in Candy Land, trying to taste as much as I could. These were my three favorites artists.
Henry Taylor, Huey Newton,
200
7.
Acrylic and collage on canvas,
95 1/8 x 76 1/4 in.
Collection of Martin and Rebecca Eisenberg.
Courtesy of the
artist,
Blum & Poe, Los Angeles, and UNTITLED, New York
Henry Taylor.
(American, lives and works in Los Angeles).
Taylor's paintings have such freshness and energy and complete lack of preciousness. In their bluntness, they hit precisely that wonderful spot in culture where urban and rural are deeply related. You feel that the characters in his paintings could be in transition from one environment to the other, whatever the setting they are portrayed in.
In the big gallery where his paintings congregate, Black Panthers, rural old folk, and a magnificent woman jumping hurdles form a convincing, if random, neighborhood. Perhaps it wasn't Taylor's point, but the convinced, outspoken, sudden way he uses paint is applied to every subject and unifies them. He's peopled a multi-talented world where there's dialogue and a lot of humor.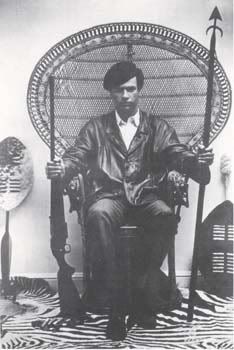 His portrait of Huey Newton is broadly copied from a famous news photo, in which the seriousness of the Black Panther is heightened by the eyes that so conspicuously stare out from the painting: They are mesmerizing. The back of the chair is printed with snippets of news clippings about killings. Improving on the original staging, Taylor suggests in the form of the chair an outline map of Africa. The zebra skin isn't simply an exotic reminder of a distant connection, but a maze of black and white; it is lines drawn, separations, definitions. Taylor has also added a big brown cross that intersects behind Newton's head. Christian symbolism? Or, more likely, an indication of where one plugs into the energy source, in Newton's head?
James McNeil Whistler, Arrangement in
Grey and Black No. 1, 1871.
Oil on canvas. Musee d'Orsay, Paris.
In the same room,
Taylor gives us
a terrific portrait of Eldridge Cleaver in tight, sky-blue pants against a field of bright green. With cigarette in hand, gazing into space, he is very cool. Of course Taylor has amusingly composed this after the painting we call "Whistler's Mother," but which Whistler called "Arrangement in Gray and Black," denying that it had to do with the human subject, but with the formal and aesthetic qualities, especially the restriction of colors essentially to gray-scale.
Henry Taylor, Eldridge Cleaver, 2007. Acrylic on canvas, 75.75 x 94.75."
Collection of David Hoberman, Los Angeles, CA. Author photo.
Cleaver is a man of
color
and he is sitting upright in no straight-backed chair: a lounging Eames side chair befits his sophistication and ability to get things done. As for composition, he sure is composed. And self-sufficient. His chair legs, his feet don't hit the floor—he's grounded in a completely different sense than Mrs. Whistler is. He levitates as he meditates, not merely patient, but ready.
Henry Taylor, Mary had a little...(that ain't no
lamb), 2013. Acrylic on canvas. 96.5 x 71.75 x
2.5." Collection of Lonti Elbers
Taylor teases, too, by putting droll spins on folkloric images of rural Black folk. Mary had a little..(that ain't no lamb) presents the old woman among her drying sheets with a calf in the background. The title invokes "fleece as white as snow," a trope implicitly useless and tiresome to a Black elder undoubtedly sick of hearing about snow-white and about fleecy, wooly hair. Yes: That ain't no lamb. It's a cow, and the sheet hanging to her right, resembles in form a side of beef in a butcher's window. There's no sentiment here for lambs, little girls, or day dreams about pretty hair. It's a painting of a world of realism. Metaphor is in art, where paint drips can suggest dripping blood of everyday violence.
Nicole Eisenman. (France, lives and works in New York).
Eisenman has won this year's Carnegie Prize, the highest award given by the International. She is showing twenty-six works, seven of which are plaster sculptures, the rest being oil paintings, for which she is better known. The paintings are remarkable for their range of art historical allusion turned to the ends of poignant and absurd commentary on contemporary life's sorrow or stupidity.
Nicole Eisenman, Big Head Sleeping, 2013. Plaster and
graphite, 27 x 49 x 36." Courtesy of the artist and Koenig &
Clinton, New York. Produced in conversation with Sam Greenleaf
Miller. Author photo.
I was especially touched by her sculpture, though, which is both crude and heart-wrenchingly normal, rather in contrast to her witty and pointed
painting.
The larger-than-life-size statues are installed side-by-side with their genteel classical counterparts on the gallery-level rail of the stately Hall of Sculpture. For some of the Graces and goddesses that usually occupy the gallery, Eisenman's lumpy mortals have been substituted. Their extreme, bleach whiteness seems not to reflect the intrinsic beauty of pure, precious material like marble; rather, it appears to be an intrinsic deficiency of the flesh. The plaster figures have an all-too-human presence and an embarrassing lack of self-consciousness.
Eisenman's plaster people do not, above all, rest on pedestals. Their plinths are covered with rubble that not only underscores how short of the ideal these figures fall, but suggests that they are not victims of human nature alone. Circumstances thwart them. The road is rough. The shards
and detritus that they stand or sit upon make life tortuous to begin with.
Base detail from Eisenman plaster statue.
From the direction I entered the gallery, I had to do some quick footwork not to stumble over the Eisenman statue of a naked, stupefied man sprawled on the floor with blackened feet and an ivy garland sagging over his slumbering brow: The
morning after the
Bacchanalia
? The garland is also a classical symbol of personal victory, or championship. Again Eisenman reminds us how humans stagger between frailty and pursuit of great goals.
Nicole Eisenman, plaster sculpture installed on Hall of Sculpture balustrade at 2013 Carnegie International. Eisenman paintings
along the wall. Author photo.
Erika Verzutti. (Brazil)
One gallery, unconnected to any others, is dedicated to Erika Verzutti's bronze, clay, and concrete casts—small works
on the floor that map
like archeological sites of ancient cities where encrusted
tools and dishes, vegetables and artists' brushes are to be found.
Aside from a slender tower of egg-shaped units that reaches like an exotic minaret toward the ceiling, most elements of her sculptural work are small enough to make the viewer feel large. Looking into the gallery gives one the feeling of surveying an ancient plain from the sky. Mixed awareness of contemporary and ancient never left me as I explored the room. Displacement in time was like a sparking current that would jolt me if I began to grow too easy.
Erika Verzutti, Floor installation of stones and casts at 2013 Carnegie International.
Author photo.
I love the open quality of her work, which seems so primal in its features and materials that it must induce strong feelings and associations in anyone who sees it. Even those who will mutter, "How childish!" of the neatly laid-out objects— overlooking the details of the surfaces, the materials, and their particular relationships—that person can still find great pleasure in what is indeed there: the desire to collect and to order, to find meaning in arrangement and
classification.
Erika Verzutti, detail of installation, above. NB cast artichoke, melon,
eggs, magnolia seed pod; paint brushes, watercolor trays?
Several elements of this installation are casts of squash and melons, vegetation rendered permanent. Also conspicuous among the contents of the walled area are paint brushes and small, subdivided dishes—the sort one would use for mixing watercolors or inks. I like the associations Verzutti sets up between nature's beautiful bounty and art-making. The artificiality of the fruit resonates with the artists' tools. The relationship between art and nature, between real and represented, natural and contrived, are suggested in a most beguiling way in this artless installation.
Another floor installation nearby is not walled like the one above, yet its creation from similar forms defines its own site. Perhaps it is an ancient ritual site, or, as I prefer to
Erika Verzutti, Installation at 2013 Carnegie International, cast bronze and concrete
with acrylic, 2013. Author photo.

see it, a burial ground marked with shaped stones, faces forward. The shapes are intermediate, between headstones and figures. The black borders of the tall ones suggest to me women in shadours; yet the luminous foreground rocks with gleaming, mixed-color interior seem like glistening geodes.
What are they? Who are they? What does the group of individuals add up to? The pleasure of Verzutti's work is that it can be studied through so many lenses—in the aggregate, as individual pieces, as references to the past, as au courant; for its evident sensual properties; for the many trains of thought it sets in motion. I love this work that is concrete and allusive, extremely grounded and so conducive to curiosity and dreams. Like so much in the Carnegie International, the embarrassment of riches makes me only long for more.